The Hotel Almanzor is located in the North of the Sierra de Gredos, at a altitude of about 1560m, which determines a mountain climatology.
Hot summers but hardly reaching 30º, with always cool nights. Winters of low temperatures, snow, ice … and also many sunny days. Autumn is usually mild and pleasant. Spring a little cooler and late, between mid-May and June.
The most interesting places surrounding the Hotel Almanzor are:
El Pinar de Navarredonda, the Gorges de Valdeascas or El Cuervo, the highest part of the TORMES RIVER (its birth) or Las Chorreras. Surrounding all these places there are innumerable routes of high mycological value, ornithological, botanical or simply landscape and in some of them there are puddles of crystalline waters where to enjoy a delicious bath in summer.
There are 2 routes to the north of the Hostal Almanzor, which lead to los Riscos de Cabeza Castaño y Piedra Aguda, which are geodesic vertex, from which you can admire an impressive view of the Gredos Massif Central.
High mountain excursions to the most emblematic places of the Sierra de Gredos start in the parking of La Plataforma, about 15 km from Hotel Almanzor.
From there, most of the climbs to the peaks and most spectacular areas of the Sierra: El Almanzor, El Morezón, La Galana, La Mira, etc … or for those who do not want to ascend much, La Panorámica del Circo de Gredos from the Alto de Los Barrerones.
All this in terms of landscape value, but as far as the flora, fauna and geological interest of the area is incalculable.
The location of the Hotel Almanzor makes it a privileged enclave for other excursions, such as those of nearby cities, almost all, World Heritage cities, cities of great tourist attraction, gastronomic, scenic …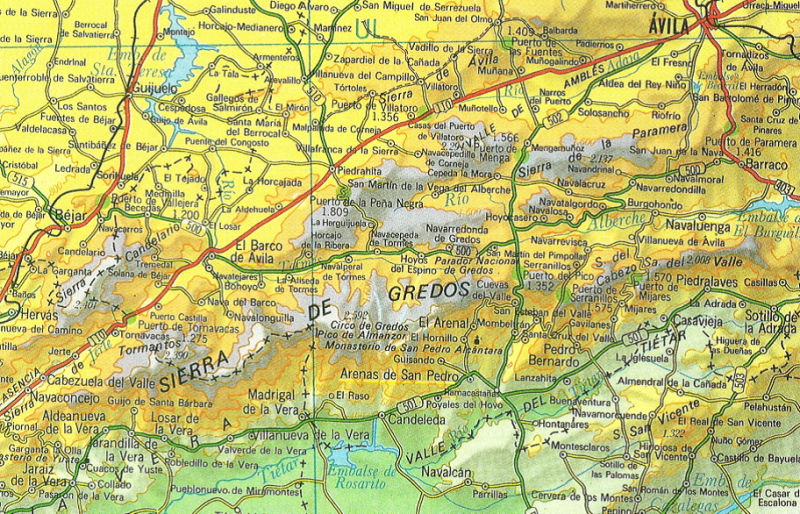 We are 45 minutes from Avila, 1:30 hours from Segovia, less than 2 hours from Toledo or Salamanca, 1:30 hours from the Natural Park of Monfragüe, 45 minutes from the Valley of Jerte, 2 hours from Cáceres …
We also want to emphasize the magnificent situation in which Hostal Almanzor is located for the contemplation of the night sky.
In 2013 the area of the North of Gredos got the STARLIGHT CERTIFICATION, which makes us one of the few privileged enclaves of Spain for the contemplation of stars. From the terrace of the hostel you can enjoy a perfect sky without any light pollution.